Description
Bring studio sound to your space
Samsung Hi-Fi Speakers tuned by AKG
Experience studio-quality sound in your own space. Listen to crisp hi-fi sound, fine-tuned and certified by AKG.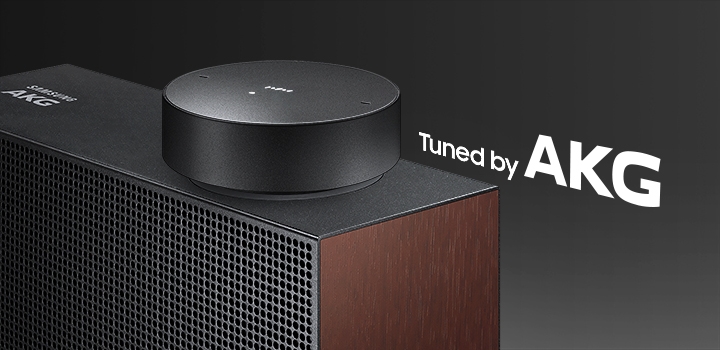 Let the original sound come alive
UHQ 32bit Upscaling
Transform your music to a more detailed and dynamic sound. Upscale any of your music files up to 32bit for richer sound.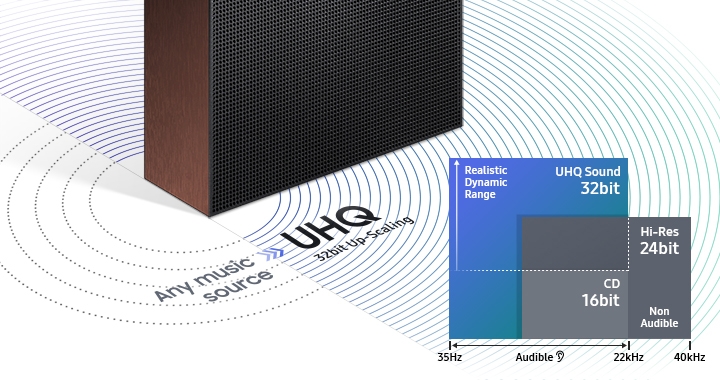 Distortion Cancelling Technology
Distortion Cancelling technology predicts and cancels out distortion before it happens, giving you deeper and more detailed bass without the need for a separate subwoofer.
Moving Dial Control
goes where you go
Moving Dial Control
Just rotate and click. Or use your voice. With the Moving Dial Control, you can adjust the volume, skip songs, and use voice commands to get what you need – virtually anywhere in your space*.
* Bluetooth connection and signal strength may vary based on different room arrangements and décor.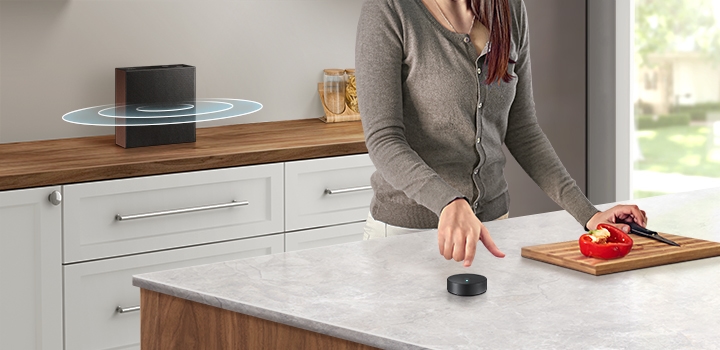 Bluetooth connection with mobile devices
Just long-press and talk to the moving dial. Using Bluetooth, it syncs with your mobile and finds the music you want*. Using your own voice couldn't be easier.
* A Bluetooth connection is required between the user's mobile device and the Wireless Audio. The Moving Dial Control must be connected to the Wireless Audio with Bluetooth Low Energy. The mobile device and the Wireless Audio must be situated within Bluetooth range.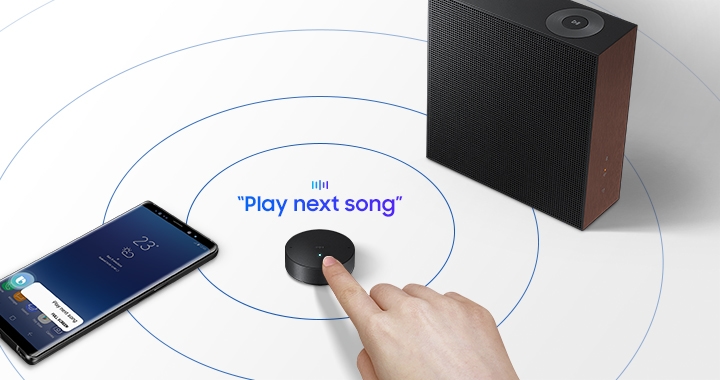 Music comes alive
with your voice
Wireless Audio with Voice Control
Can't recall the title? Enjoy your Wireless Audio hands-free using Alexa voice control. Ask Alexa to play something by simply saying the title or a few lines of the song's lyrics. No matter what kind of music you're in the mood for, Alexa will find it.*
*An Amazon Echo Device is required to use this feature. This service is provided by Amazon and can be terminated at any time.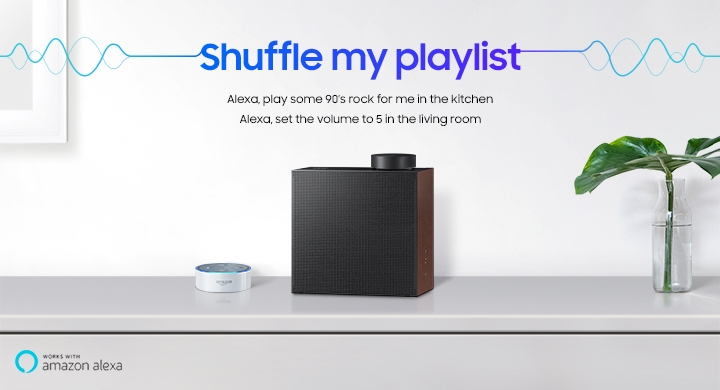 Seamless setup with your smartphone
Automatic notification. Easy setup.
Put complex set-ups behind you. Just plug in your speakers and get an automatic pop-up message on your mobile device to connect to the network*. Simply click the connected speaker shown on your phone to register it. Set-up complete.
*The pop-up feature applies to all devices with the SmartThings app, which can be downloaded from Google Play or the App Store. Galaxy S7 series and later models come with the SmartThings app pre-installed.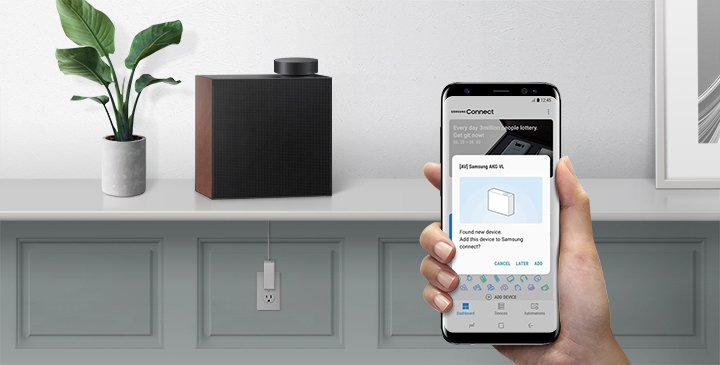 Group Play & SmartThings app
It's your music, play it where you want. With Group Play and the SmartThings app, you can listen to your music on a Samsung audio device* anywhere in your home. SmartThings even gives you control over a range of smart home appliances.*
*Compatible with select Samsung wireless audio and Soundbar models made after 2018 that support Wi-Fi.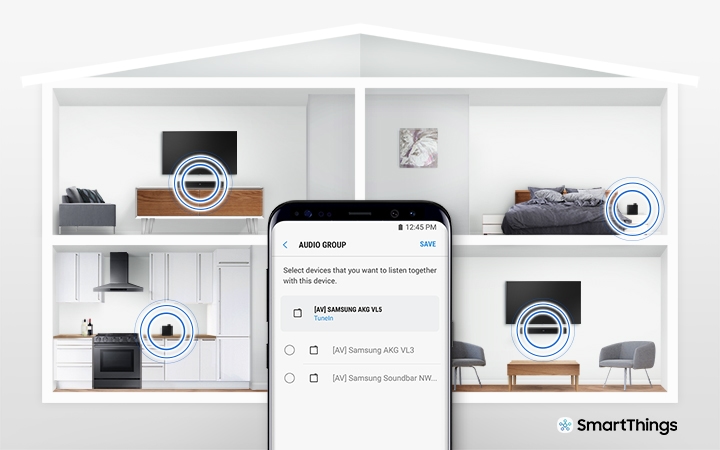 Enjoy great, 2-channel
stereo in moments
2-Channel Stereo Sound
Improve your movies, shows and sports viewing experience by connecting the VL3. You can even upgrade your space with your own stereo sound settings – all you need is two VL3s.